NEXT Advisor James Slaughter to be Awarded for Professional Achievement, Community Contributions
Atria Wealth Solutions
November 19, 2019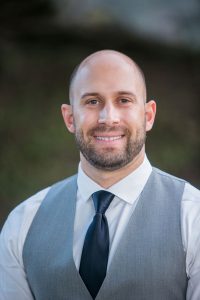 SACRAMENTO, CA. – November 19, 2019 – James Slaughter, co-founder and president of rapidly growing Sierra Ridge Wealth Management, will be honored tonight as one of Sacramento's 40 Under 40 award winners.
Each year, the Sacramento Business Journal recognizes 40 people under the age of 40 who excel in their professions and contribute to the civic health of the region.
James, 32, is a licensed financial advisor at NEXT Financial Group, Inc. (NEXT), a subsidiary of Atria Wealth Solutions, Inc. (Atria). Prior to joining NEXT in 2018, he worked for Waddell & Reed, Inc. for 10 years, where he held various leadership roles. Today, he and Sierra Ridge co-founder Giancarlo Foti lead a team of financial professionals who provide holistic financial planning services to individuals at each stage of their financial lives.
Since its inception in April 2018, Sierra Ridge has enjoyed a meteoric rise, adding 9 advisors to their team of financial professionals, which includes a portfolio management associate, a marketing specialist, wealth strategists, and financial planners.
James said he was honored to be selected for the award.
"When you really think about them taking the top 40 individuals under the age of 40 in such a huge area, it's pretty humbling and pretty awesome to win," James said. "But I think it's also validating because it's a testament to what Giancarlo and I have always known about Sierra Ridge—we're absolutely changing the wealth management industry in Sacramento—and it's great to have some recognition of that."
Those nominated for the prestigious award are evaluated by a panel of judges foremost on their professional accomplishments and then on their volunteer and charity work. Besides successfully leading Sierra Ridge, James is also the owner of Daycation for Seniors, a social daycare activity center for senior citizens with special needs. Daycation is a three-time winner of the Placer Herald's Best of Award for Senior Service.
"I founded Daycation for Seniors after taking care of my grandmother who suffered from Alzheimer's," James said. "After four years, Daycation for Seniors now helps over 135 participants per week. With the aging baby boomer generation there is a huge need for the expansion of this industry. Not only are our services crucial for our participants, but we provide a much-needed break for the caregiver."
James doesn't stop there. Sierra Ridge sponsors local nonprofit groups and hosts fundraising activities with the River Cats, the Triple-A affiliate of the San Francisco Giants, and other local organizations. He also works with the Alzheimer's association to bring awareness and education to the Sacramento community.
The 2019 40 Under 40 award recipients will be honored at an awards banquet tonight at the California Museum in Sacramento.
ABOUT
Sierra Ridge Wealth Management is a full-service financial firm committed to helping people achieve their financial goals. We provide a fully integrated approach to building and protecting your wealth, including customized portfolio management strategies and asset protection structures. We work with you to reach new heights together.
Securities and investment advisory services are offered through NEXT Financial Group Inc. Member FINRA/SIPC.
Sierra Ridge Wealth Management is not affiliated with NEXT Financial Group, Inc.
1435 River Park Dr. Suite 504, Sacramento, CA 95815