Vision
2023 Key Themes for Wealth Management at Atria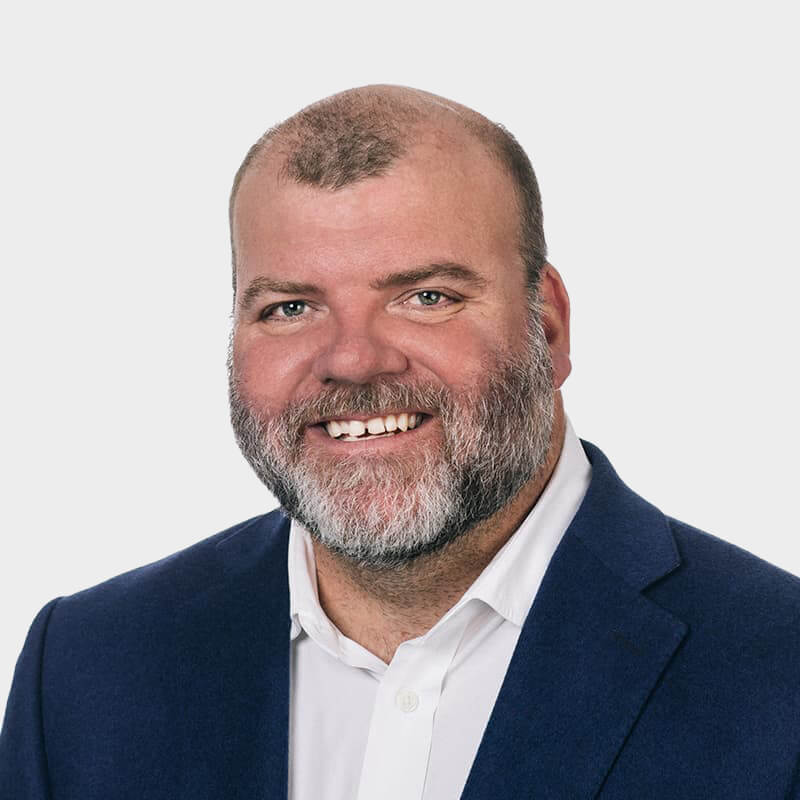 Eugene Elias Jr., COO and Founding Partner
April 9, 2023
2022 certainly had its share of ups and downs — a 20% drop in the S&P 500, seven rate hikes by the Fed, record unemployment, adjusting to the new normal both personally and professionally and much more. Despite the unpredictable markets and broader economic challenges, we, as a firm in partnership with all of you, accomplished so much.
We achieved record results in our Financial Institution channel, with 75 programs achieving their best year ever and record revenue growth for the business. We saw double-digit growth in advisory accounts, Clear1 logins and eSignature adoption, to name a few. We delivered on numerous strategic initiatives and continued to develop and enhance our core offerings and services.
Our success is a direct result of our deep partnership with you. Our unwavering commitment to providing you with an exceptional experience solely focused on deepening and enriching your relationships with your clients and members is essential to our achievements. I could not be more proud of what we accomplished together.
Our aim to deliver an exceptional experience is realized through driving more efficiencies in your practice (NAO 2.0), providing more end-client technology solutions (Clear1 Mobile), diversifying investment solutions to meet the needs of your clients and offering outside-the-box thinking for solutions like virtual assistants (TeamAssist) to help you scale and support your practice. While all these solutions and achievements make sense, the fundamental deciding factors are adoption and influence on growth. Our success is predicated on your level of engagement and, in turn, your clients' engagement with you.
Although engagement can be difficult to measure, there are several telling aspects when we look at utilization. First, are you using or not using the solutions we have developed? If something within our offering has little usage, there is a high likelihood that we built and delivered something that doesn't solve the problem or designed it in a way that isn't user-friendly. This issue is critical for us to understand so we can redesign or remove it from the platform. Secondly, if there is utilization and engagement, is it helping you better serve, support and grow your practice?
The chart below is a great example of what we are trying to extract from utilization and engagement. We looked at our most successful financial professionals to review levels of adoption across key solutions and compared them against the broader financial professional group to see if they are engaging the solutions at higher or lower rates.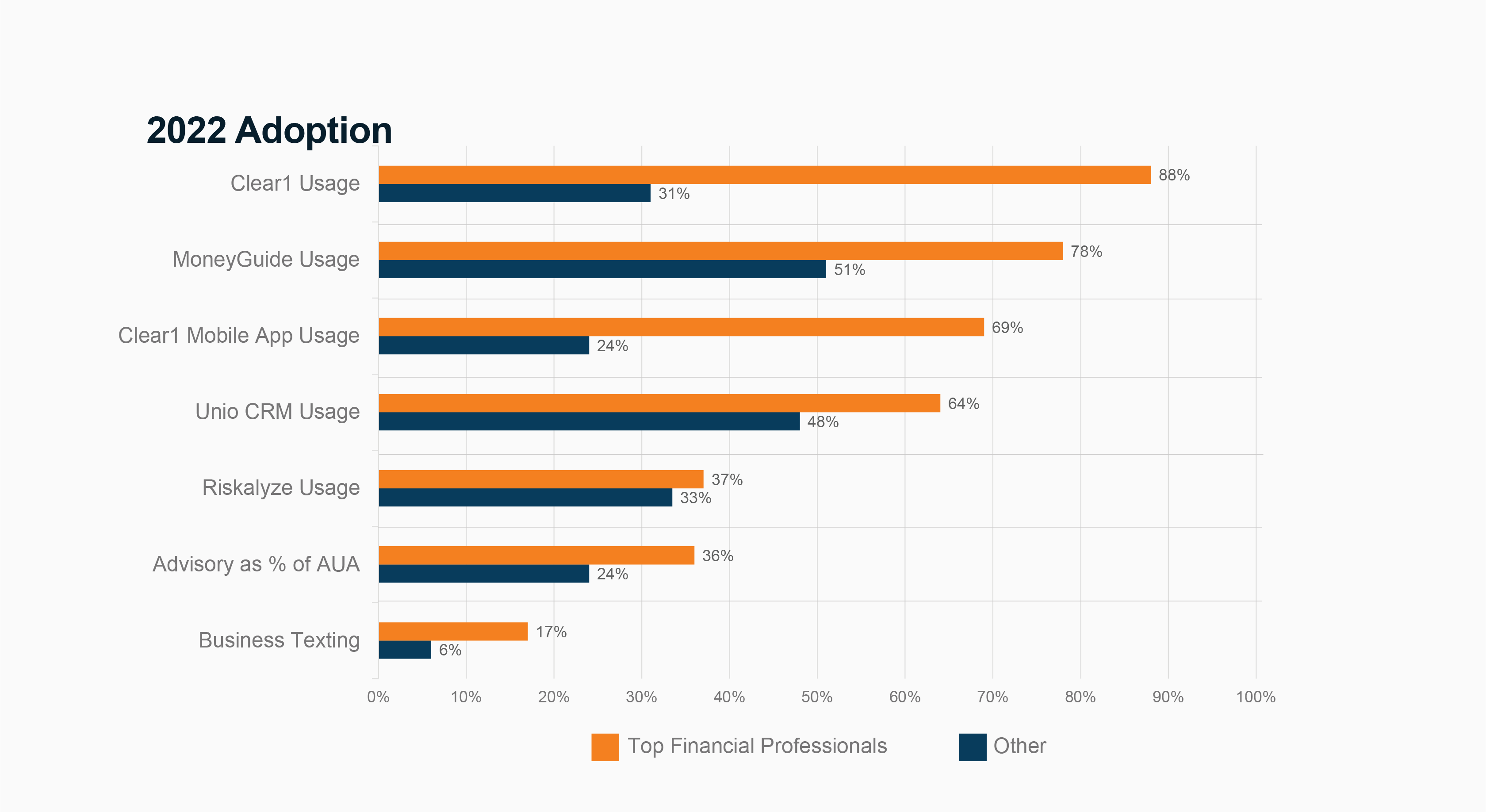 These results show a significant engagement level by the top financial professionals versus the broader group. The adoption of these tools isn't necessarily why they are so successful, but it is a significant contributor. These top financial professionals are willing to adopt new capabilities and solutions that ultimately meet and exceed the expectations of their clients. The results are a tell-tale sign that what we have built and rolled out is beneficial to supporting and growing their practices.
Societal, demographic and industry trends
We remain committed to providing you with solutions that give you a competitive advantage — solutions that meet and exceed the expectations of your clients and prospective clients. To do that, it is essential to take a step back to understand what is happening from both a societal level as well as an industry level. Having this knowledge allows us to prioritize our resources and capital to best serve you.
While a tremendous amount of change and activity is occurring, we are focused on three pivotal areas:
The greatest wealth transfer in the history of civilization
Hyper-personalization
The ever-increasing demands placed on financial professionals
Current projections estimate that $84 trillion will be in motion over the next 25 years as wealth is transferred from baby boomers to the next generation. However, close to 90% of heirs will leave their parents' financial professional. This wealth transfer presents the most significant opportunity of our lifetime but also carries significant risks if you haven't built a relationship with those heirs or the next generation.
At the same time, expectations from clients have radically changed. Those who are inheriting this wealth have evolving expectations not just from a technology perspective, but also for how they wish to be understood. There is a vast disconnect on an emotional level between clients and their financial professionals — only 39% of clients believe their financial professional understands them and their values.
These trends directly impact you and your practice. Clients want and expect more, which requires considerable work on your part to build relationships with the next generation. More pressure is placed on you in addition to regulatory pressures and other administrative responsibilities you face. Statistics vary, but close to 70% of a financial professional's time is spent on administrative activities. To meet the ever-growing demands and establish new relationships with the next generation, we need to flip these statistics to 70% of time spent on client activities and 30% on administrative ones.
Our focus for 2023 and beyond
In partnership with you, we have designed a strategic roadmap to capture these opportunities. Each initiative is developed in a way that will support you in building relationships with your clients' children. At the same time, these initiatives can help drive more efficiencies in your practice. We believe that increased adoption of financial planning, estate planning and increased transparency into the household will be entry points into a more profound and holistic relationship with your clients.
NextGen
Our 2023 projects will help best position you to attract the next generation who are inheriting the wealth. Integrations of MoneyGuidePro and Trust & Will into Unio, new household visualizations in Unio, a NextGen e-Vault and auto-completion of financial plans will all deliver a frictionless experience for you and your clients.
Personalization
As you collect more information about your clients and better understand what they want, providing informative content and engaging with them will become more critical. You'll need to offer meaningful information. Tools like our Digital Marketing Suite become imperative to delivering useful content quickly and easily. The ability to monitor and track client engagement will also become crucial to your efforts.
Practice optimization
With fewer financial professionals serving a growing demand for advice from clients and prospects who expect more personalization and connectivity, how can you also focus on scaling your business? To accomplish all of this, you need more time back in your day. We must provide you with tools and processes to increase your efficiency.
The coming years will be monumental as we focus on continued innovation and providing solutions that make a material impact on the growth of your business. The conclusions we can glean from the performance of our most successful financial professionals in 2022 fuel our efforts to deliver tools that position you to meet and exceed changing client and prospect expectations. We've seen the power of analytics that provide the visibility and transparency that empirically highlight best practices, helping you raise the probability of achieving your goals.
This is an incredibly exciting time in our journey together, and we are uniquely positioned to ride the wave of opportunity ahead.